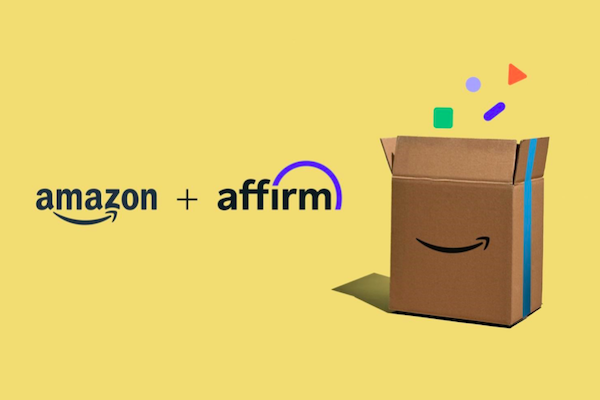 Image via Affirm
It was announced on Friday that Amazon is beginning to enable 'buy now, pay later' cart checkouts on its massive online marketplace.
In a new partnership with Affirm, customers will be able to split large purchases—anything above US$50—into smaller monthly installments. The press release declares that "as always, when choosing Affirm, consumers will not be charged any late or hidden fees."
'Buy now, pay later' is an alternative type of line of credit that many younger consumers, with rising amounts of buying power, are familiar with. This mode of payment is quickly gaining traction after been implemented by many e-commerce sites, especially those of fast-moving product categories such as fashion and electronics. It was only a matter of time for the online shopping giant to incorporate this into its own marketplace.
"I believe this is driven by the fact that consumers have come to not only prefer but increasingly expect and demand payment flexibility and choice at checkout," states Silvija Martincevic, Chief Commercial Officer at Affirm, in an interview with Entrepreneur.
"As consumers are presented with more options than ever, businesses need to offer added value that brings customers in the door and gives them a reason to spend."
Affirm is a fintech company that aims to build an innovative method of payment, with the aim to base it on "trust, transparency and putting people first." When the news of this partnership broke, its shares leapt 48%, according to CNBC.
This new installment system will be made available to a select number of Amazon customers located in the US, and a broader rollout is planned to come in the next few months.
An exciting step forward as we expand our network — we're partnering with @Amazon to deliver @Affirm's flexibility and transparency to select customers at checkout in the U.S. https://t.co/xxBBHwbqbs

— Affirm (@Affirm) August 27, 2021