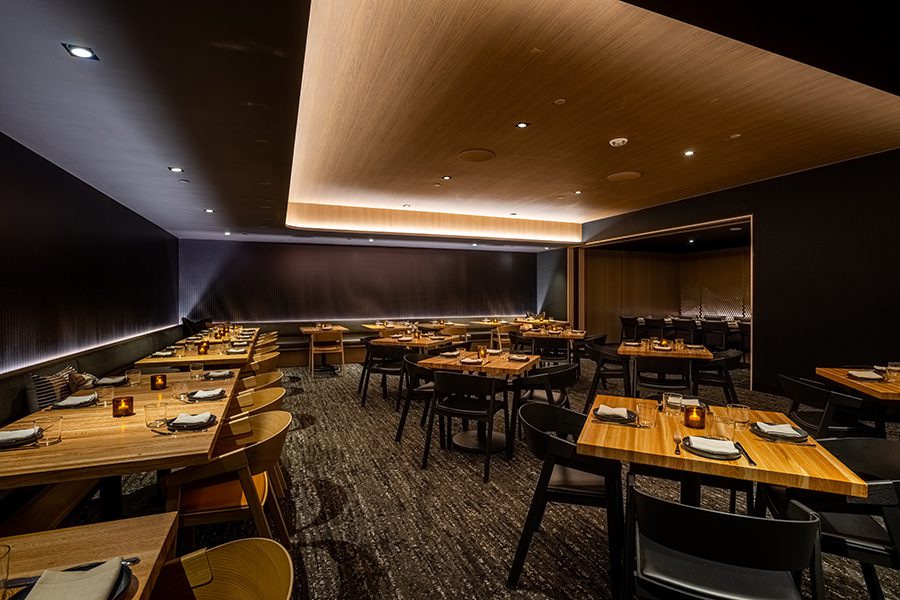 Chef Ray Garcia has unveiled his latest restaurant, asterid, within Frank Gehry's iconic Walt Disney Concert Hall in Los Angeles. The warm and modern eatery exudes California sophistication across dining, bar, and lounge spaces crafted by Belzberg Architects.
"The interiors present as a blend of influences to celebrate a sense of openness and approachability by visually connecting the kitchen with the rest of the space, carefully balancing the contemporary sensibilities of form and pattern with touches of warmth and familiarity reminiscent of chef Ray's style of cooking," says Belzberg project architect Dan Rentsch. "It was important that the architecture, furniture, and lighting evoke a sense of approachability and comfort with moments of vibrancy that reflect the mosaic nature of LA's cultural and culinary diversity to create a space that's authentically from and for LA."
A warm glow permeates the interior and emits from asterid's floor-to-ceiling windows into the surrounding cityscape, which links organically to an extended wraparound patio lined with greenery. Inside the double-height restaurant, guests are greeted by a contemporary sensibility embodied in focal points like the illuminated statement bar.
The convivial area transitions into quieter, cozier spaces accented by a contrast of light and shadow. Geometric ceiling patterns and wallcoverings opulently enliven the atmosphere with a sense of motion. The dining room is equipped with a pair of sliding doors that lead to a private dining room and event space distinguished by a backlit wall featuring textured gold paneling that infuses intimacy.
More from HD:
What I've Learned Podcast: David Galullo, Rapt Studio
4 Don't-Miss Speakers Heading to HD Expo + Conference 2022
Mitchell Hochberg Shares What's Next for Lightstone