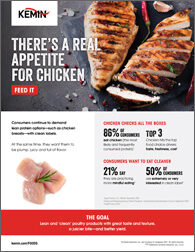 Bring clean label poultry to your consumers—and skip the high levels of salt and additives. With our innovative functional protein, Proteus®, you can naturally improve yield, retain moisture and lower raw material costs—without sacrificing taste or texture.
In a recent test, Proteus® liquid technology was tested alone and in combination with an untreated control and phosphate in a chicken sheet meat application. Proteus® required 15% less meat to make the same quantity of finished product vs. untreated.
Proteus® provides a clean label alternative to phosphate, so you can please consumers. Used to improve moisture retention in meat and poultry products throughout the cooking process, Proteus® can be applied using direct addition, tumble/marinade, or injection, similar to traditional brines.