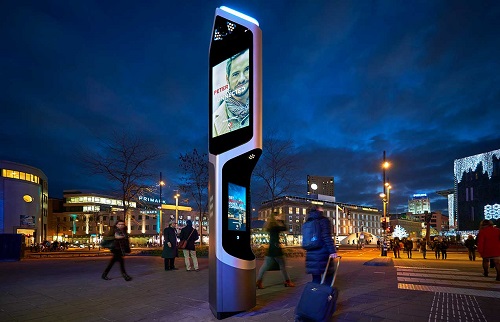 As the number of COVID-19 infections declines and people return to their normal routines of outdoor shopping, dining and recreation, outdoor digital communication presents a unique tool to revitalize communities that have been hit hard by store closures, canceled events and stagnant growth. With the right approach, outdoor digital signage can be an excellent facilitator between the public and city services. It can provide timely communication about city services, educate communities about local events and news, and promote local businesses.
Outdoor digital signage also offers advertisers opportunities that were simply not previously available with static posters. Content not only can change throughout the day or week but also can even be custom tailored for a variety of environmental factors. For example, a local quick-service restaurant may want to promote its ice cream offerings when the temperature exceeds a certain threshold, or a clothing retailer can show the latest outerwear designs in cold weather. Additionally, digital displays can utilize real-time data to analyze campaign performance and help tailor future messaging.
DynaScan is excited to introduce a number of turnkey, outdoor-ready displays later this year that are not only bright enough to be seen clearly in direct sunlight but also weather-resistant for year-round operation in inclement conditions.
To learn more about DynaScan, visit us at dynascandisplay.com.