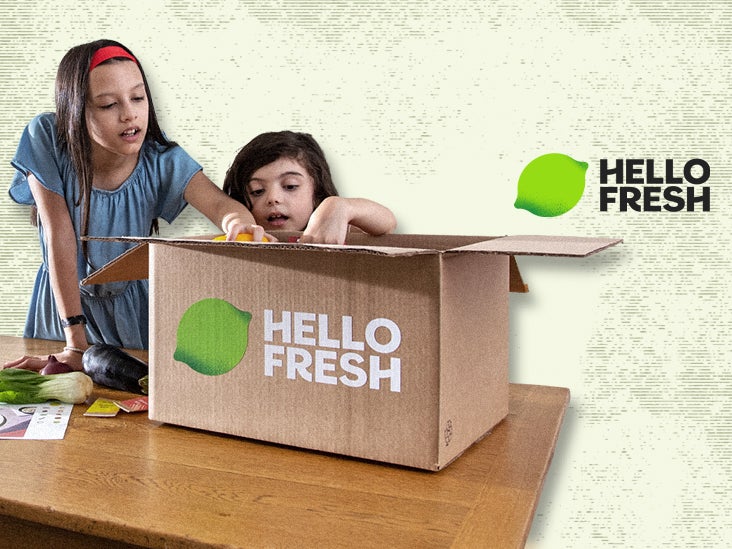 HelloFresh is a meal kit delivery service that saves people time planning meals and shopping for groceries. With an emphasis on fresh foods, the service may appeal to busy individuals and families.
This article looks at how HelloFresh works and its menu options. It discusses who the meals may be suitable for and potential health benefits.
Please note that the writer of this article has not tried these products. All information presented is purely research-based.
HelloFresh is a meal kit delivery service. It delivers a box to customers containing pre-portioned fresh ingredients and step-by-step recipes. A person then cooks the meals at home.
The service has options for people who eat meat, those on a vegetarian diet, and those counting calories or carbohydrates. HelloFresh labels all its meals with nutritional information.
The company also claims its service enables individuals to save money and reduce their food waste.
People can sign up to HelloFresh online. They will need to share personal information such as their name, address, and payment details.
Customers then choose a meal plan based on their dietary needs and preferences. They can select between two and six meals per week that serve either two or four people.
Each week, individuals can select from a rotating menu of over 20 different meal kits. It is possible to choose the same meal kit multiple times in the same week.
Deliveries
HelloFresh delivers three times a week to ensure the ingredients are fresh upon arrival. Customers can allocate their desired delivery date or change delivery dates before midnight on the allocated delivery day.
Deliveries can arrive between 8 a.m. and 8 p.m, and customers receive a tracking number for each delivery.
While users can have Wednesday, Thursday, and Friday deliveries, deliveries on Saturday, Sunday, Monday, and Tuesday are only available in some locations. Customers can specify delivery instructions or change delivery details through their online accounts.
HelloFresh delivers anywhere in mainland United States, but it does not ship orders to Alaska and Hawaii.
Its delivery packages feature insulated liners and cooling technology to keep the contents fresh and cool for up to 48 hours after delivery.
People can personalize their menu plan according to the following preferences:
Meat and veggies: Includes meals with meat, fish, and vegetables.
Veggie: Comprises vegetarian-friendly meals.
Family-friendly: Includes meals suitable for children.
Calorie smart: Each meal is around 650 calories.
Quick and easy: Features meals with minimal preparation and cooking time.
Pescatarian: Consists of seafood and plant-based meals, but no meat.
Each preference offers a choice of over 20 weekly recipes from chefs and nutrition specialists.
Some recipes are gluten-, dairy-, and nut-free. However, HelloFresh does not offer vegan plans. Similarly, there are no paleo or keto plans.
The following is an example of recipes with their preparation and cooking times:
One-pan beef stir-fry tacos: Comes with tangy slaw, sriracha mayo, and crispy fried onions. Ready in 15 minutes.
Cheesy quinoa-stuffed peppers: Comes with pico de gallo and smoky red pepper crema. Ready in 40 minutes.
Shrimp & chorizo paella: With peas, bell peppers, and garlic aioli. Ready in 40 minutes.
Lemon cream chicken cutlets: With dilly potatoes and green beans. Ready in 40 minutes.
'Shroom & gouda burgers: Comes with potato wedges and garlic aioli. Ready in 35 minutes.
On average, the meals take 40 minutes to prepare and cook.
The price of HelloFresh subscriptions depends on the meal plan and chosen frequency.
The table below shows the total cost of a HelloFresh delivery based on option combinations:
The total cost for all the above options includes the standard $8.99 shipping fee.
The price per serving suggestion varies depending on the plan a person chooses and their desired delivery frequency. The lowest cost per serving is $7.49, while the most expensive is $12.49.
The table below shows a breakdown of the cost per serving for each meal plan and delivery frequency option:
HelloFresh offers weekly special meals that have an additional cost, so if a person selects one of the meals from the following list, they may have varying additional costs:
Gourmet
Gourmet Plus
Surf & Turf
Taste Tours
Craft Burger
HelloFresh accepts all major credit cards and electronic payments, including VISA, MasterCard, American Express, Discover, and PayPal.
This information is correct at the time of publication.
Cancellations and refunds
HelloFresh lets people skip a week or cancel at no extra cost at their discretion. Customers can do this on their online accounts.
The company recommends users make any changes to their account or orders, such as updating card details or canceling orders, at least 5 days before the next scheduled delivery. This is because orders will begin processing after this period.
HelloFresh may suit people who wish to cook a range of different meals but have limited time or resources to plan recipes and buy ingredients.
A meal delivery kit provides convenience and variety while still allowing individuals to look after meal preparation and cooking.
People with families who wish to involve children or others in the cooking process may benefit from HelloFresh. It is a good way to learn cooking skills and gain confidence in preparing different meals.
Who may it not suit?
HelloFresh may not suit those on a strict budget, as the cost per serving size is potentially greater than buying ingredients and cooking from scratch.
HelloFresh is also not suitable for a wide range of dietary specializations. For example, it does not cater to people following a vegan diet or those who have very particular tastes or several food allergies.
Using HelloFresh means that a person is cooking from scratch using fresh ingredients and no processed foods. Processed foods are often higher in sugar and fat and can lack the nutrients that fresh foods retain. According to some research, unprocessed foods or minimally processed foods have associations with a lower risk of chronic disease.
Weight loss
People trying to lose weight may benefit from HelloFresh. The low-calorie meal plan has dietitian-approved meals that each contain about 650 calories. Experts advise that individuals need to reduce their calorie and fat intake to lose weight. With this in mind, a person can choose low-calorie and low-fat meals in their weekly HelloFresh delivery.
Learn how to lose weight successfully.
Considerations for special diets
HelloFresh does not offer specific options for people following vegan or gluten-free diets or those adhering to keto, paleo, or low sugar diets.
A person with diabetes may find the low carbohydrate options helpful in planning their carbohydrate intake. However, HelloFresh does not offer tailored meal plans for those with diabetes.
Learn more about a low carbohydrate diet for diabetes.
While the service provides nutritional information for individuals to choose suitable meals, people are unable to swap out ingredients that they need to avoid.
There are several alternative meal kit delivery services available online. A person may wish to check the menus and plans before committing to any meal kit service, as they may find limited options for their dietary needs.
Some similar meal kit delivery services include:
Alternatives to meal delivery
Alternatively, a person can help ensure they follow a nutritious diet while saving time and waste by:
planning a weekly menu and shop for groceries with an online delivery service
using online resources to find quick and easy recipes and meal ideas
using leftovers to add to salads, wraps, or bowls for quick lunches
batchcooking and freezing food in portions
making one-pot meals such as chilis, soup, and stews
preparing breakfasts the night before, such as overnight oats
washing and chopping a variety of raw vegetables and salads to store in the refrigerator
using frozen vegetables to add to recipes and frozen fruit for smoothies
HelloFresh offers people an easy way to eat freshly prepared food by using meal kits. Customers can choose meals in advance and receive fresh ingredients delivered to their homes along with step-by-step recipes to follow.
The menu options are varied and may appeal to families. However, other meal delivery services may cater better to specific dietary requirements.
HelloFresh may suit families, people who wish to improve their cooking skills, and those unable to plan recipes or buy ingredients from stores.