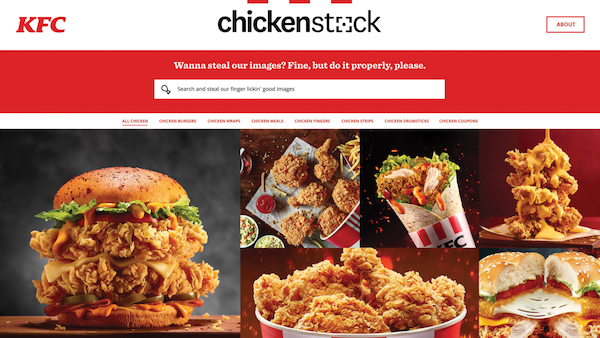 Image via TBWA\RAAD for KFC
KFC isn't calling fowl on the countless businesses out there trying to replicate its secret recipe for success. In fact, it's enabling them. The fast-food giant has launched a stock image library inviting counterfeiters to use its mouthwatering product imagery "free of pixelation, free of charge."
The website, produced alongside advertising agency TBWA\RAAD, is called ChickenStock and bears striking similarities with popular royalty-free asset platforms. The chain decided to host its own stock image bank because it's fed up with the quality of its "finger-lickin' good images" being repeatedly butchered by unauthorized parties, so it's allowing copycats to appropriate them in high resolution.
"Want to steal our images? Fine, but do so properly, please," remarks the narrator in the campaign video.
[embedded content]
But as they say, there's no such thing as a free lunch. In addition to launching ChickenStock, KFC tracked down some so-called counterfeiters and let them know it was aware its images were being used without permission. Then it put up posters near those locations comparing the stolen photos and the original versions. "This is no way to treat a chicken," one sign reads.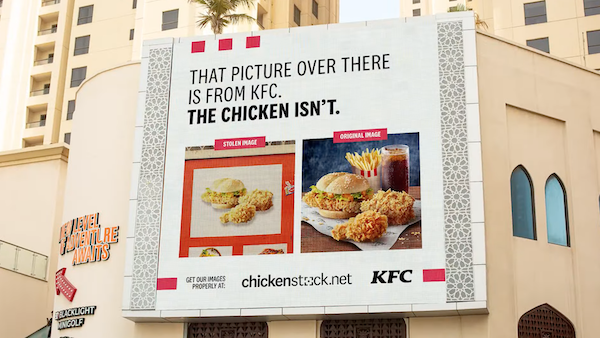 Video screenshot via TBWA\RAAD for KFC
At the end of the day, the snarky campaign makes one thing clear: "You can steal our images, but you will never steal our taste."
Other shops are borrowing images of our chicken.
So what are we going to do? Help them! https://t.co/SJs5JALXSw#ChickenStock pic.twitter.com/9GbnDIucaK

— KFC Arabia (@kfcarabia) February 10, 2022
[via TBWA\RAAD]