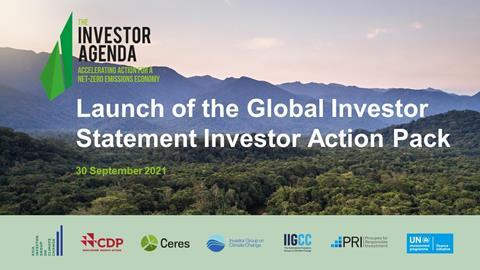 Date: Thursday, 30 September 2021
Time: 12:00 – 13:00 AEST & 15:00 – 16:00 BST
Platform: Zoom
Ahead of COP26, the Investor Agenda is launching its 2021 Global Investor Statement (GIS) to Governments on the Climate Crisis – the strongest ever call from investors to governments to raise their climate ambition and implement meaningful policies.
This webinar, organised by the IGCC and supported by the PRI aims to provide GIS signatories with further knowledge on how they can become active advocates using the newly-launched GIS Investor Action Pack. Non-signatories of the GIS are also invited to attend, to learn what the statement is, why it's a vital tool in calling on governments around the world to act on climate change, and how they can support the initiative.
Click below to register for Session 1: 11:00 JST / 12:00 AEST
Click below to register for Session 2: 10:00 EDT / 15:00 BST