Introduction
The PC Financial Mobile Banking App saves time when mobile banking. I was so happy when the PC Financial Mobile Banking App was released! I had been using other banking apps from my other banking institutions, and I was waiting for PC Financial to catch up with their own iPhone banking app.
The best iPad apps for real estate agents
They didn't disappoint me. I can do anything on the banking app that I could do online, with the exception of changing my personal and security information.
Keep reading this PC Financial Mobile Banking app review to learn more about this good iPhone app for banking.
Do It All Mobile
I have really come to depend on my iPhone for mobile banking, so the PC Financial Mobile Banking App really made this easier for me! I frequently add my groceries in line and transfer the money to the right account right there while waiting my turn.
The best iPhone apps for banking
I'll send an e-transfer to a friend who I am buying Avon from, or some other transaction. It took PC Financial substantially longer to get a mobile app, but it is a great one.
Across the top you find a Menu and Sign Out option. The Menu includes things like Your Information, Find Us, Help, Contact Us, and Legal Stuff.
You can always find a branch to help you, or phone them right from the app. This is great since I rarely have my purse with me when I'm in the house, and going to find the right phone number is a pain.
Under this in a red bar you find Accounts, Pay Bills, Transfers, and Send Money. Accounts is obviously your accounts with the bank, Pay Bills sends you to the section where you do just that. Transfers and Send Money have additional options.
Transfers brings you to Transfer Funds where you select the accounts, date, frequency, and amount just like you normally would. To the left though, you can click View Upcoming Transfers to make sure that you have your payments in line.
Send Money brings up e-Transfer, Recipient List, and e-Transfer Status. All very handy to do straight from your phone.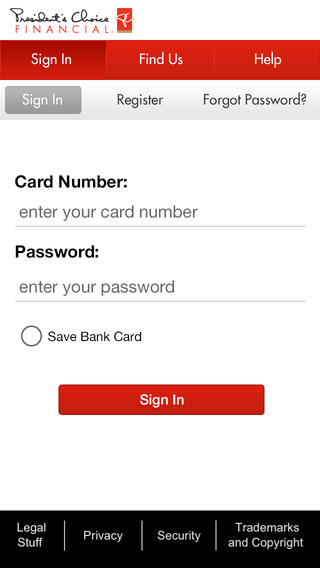 Nothing You Can't Do…Almost
There is nothing that you can't do with the PC Financial Mobile Banking App with your existing accounts. You can change your address if you are moving.
You can't request a money order though. If you need one of those suckers, you are going to have to find a computer, and wait the 5-10 business days for the snail mail to bring it to you. Sorry, it's just a security thing that they are trying to keep you safe!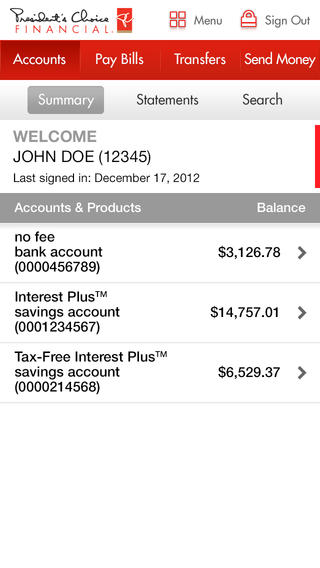 Pros & Cons
Pros
I love this app for its many functions and have not signed in on a computer in almost the full year since its release
You can do almost all your banking with this thing
No worries about security because it asks you your security questions to make sure it really is you
Auto times out in three minutes so if you forget to sign out your buddy can't go banking on you
Easy to read and smooth look
Cons

If you need a money transfer you still need to go to a computer or make a phone call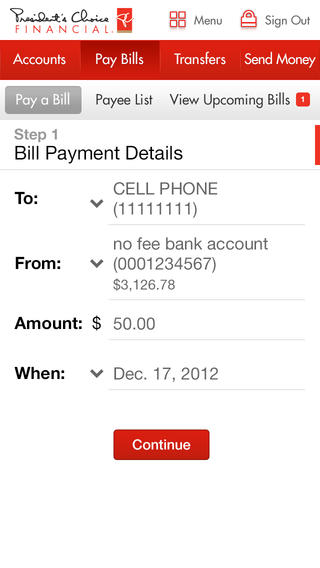 Final Thoughts
Thank you for releasing an app PC Financial! I've been waiting, and you have not disappointed! If you are with PC Financial, this is a great app to have. If you are not with PC Financial, what are you waiting for?