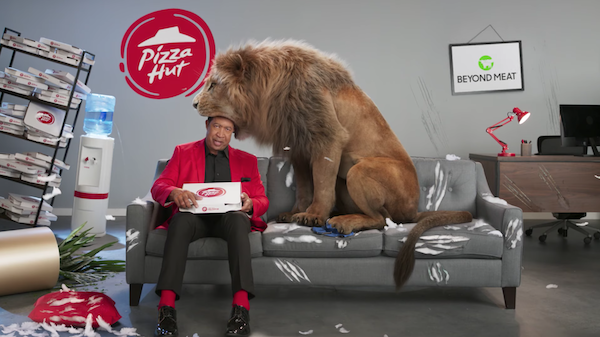 Video screenshot via Pizza Hut Delivery UK
Blind taste tests are so yesteryear. As a seal of approval for its new, meat-free Beyond Meat pizzas, Pizza Hut in the UK has enlisted a lion to test them out. A CGI lion, that is.
An uproarious new video, produced by marketing agency Iris Worldwide, brings in American actor Parker J. Patterson as a recurring star in Pizza Hut UK's campaigns. This time around, the brand deal seemingly places his life on the line, as 'Clarence' the CGI lion shares a spot on the couch with Patterson, mouth wrapped around the human's head.
Thankfully, Pizza Hut's Beyond Meat pizza is there to save Patterson's life. The lion sees the pie and forgets about his man-sized dinner.
The absurd campaign aims to show that the new range is "approved by carnivores," and that not even a lion—the king of the jungle and top of the food chain—would be able to tell the difference between Beyond Meat pizzas and regular meat pizzas. He might even prefer the vegan offerings.
The lineup features three plant-based pizzas and a side, namely the Beyond Italian Style Sausage Supreme, Beyond Three-Meat Three Cheese, Beyond Beef Sizzler, and Beyond Italian Style Sausage Tear & Share Topper. They'll be available to order across Delivery Hut locations in the UK.
[embedded content]
[via B&T and Campaign, cover image via Pizza Hut Delivery UK]