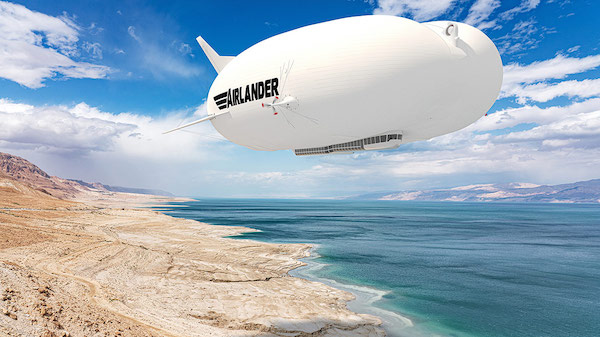 Image via HAV
British firm Hybrid Air Vehicles (HAV) has released new images of its upcoming airship, the Airlander 10, which will join the ranks of the largest aircrafts in the world.
The Airlander 10 measures 299-feet-long and 112-feet-wide, and can hold up to 100 passengers. Although its exterior is rather blimp-like, the new images show a stunning interior that's spacious and stylish.
With floor-to-ceiling windows for incredible views, passengers will have lots of legroom that commercial aircraft can usually only afford to first-class customers. There is even a concept bar that could see you knocking back a few tipples on your trip.
Setting it apart from other aircraft is the fact that the Airlander 10 is eco-friendly. Expected to fly by 2025, the new aircraft will pose a challenge to conventional planes on short-haul routes, as it'll be providing a more comfortable experience with over 90% less emissions.
"The number-one benefit is reducing your carbon footprint on a journey by a factor of 10," Mike Durham, CTO of Hybrid Air Vehicles, told Live Science.
"But also, while you're going to be in the air a little bit longer than you would if you were on an airplane, the quality of the journey will be so much better."
The initial iteration of the Airlander 10 will see two of its propellers use kerosene-burning engines to move the aircraft forward, though the firm expects to create a fully electric version by 2030, which will further reduce its carbon emissions. Its motors will be powered by liquid hydrogen fuel cells, which are able to store more energy than regular batteries.
However, it seems the Airlander 10 will only be an option for short-haul travel. Its top speed of about 80mph is a lot slower than that of a commercial aircraft, which cruises at 450mph. The crucial differentiator is the carbon emissions one could save by opting for the former.
Take a look at the Airlander 10 and its wonderfully designed interior below.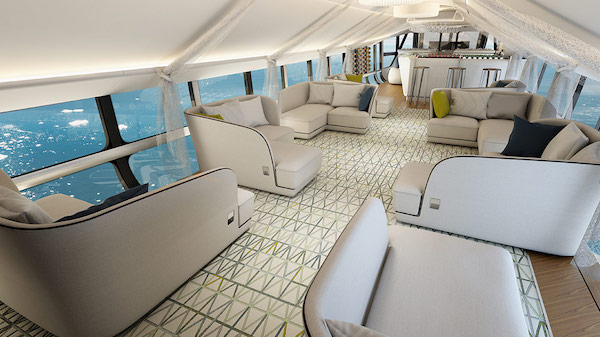 Image via HAV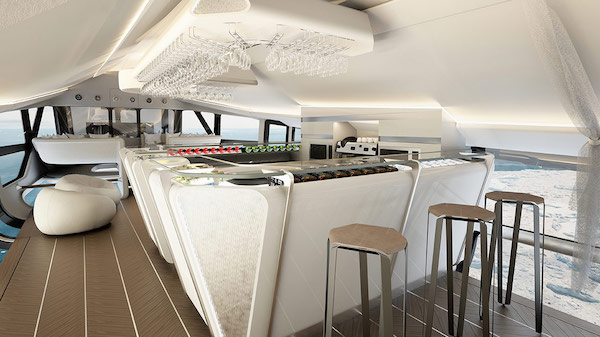 Image via HAV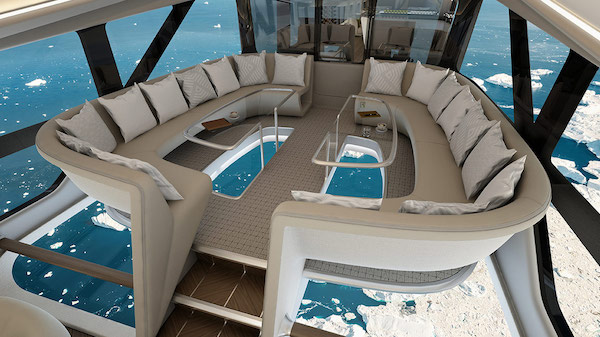 Image via HAV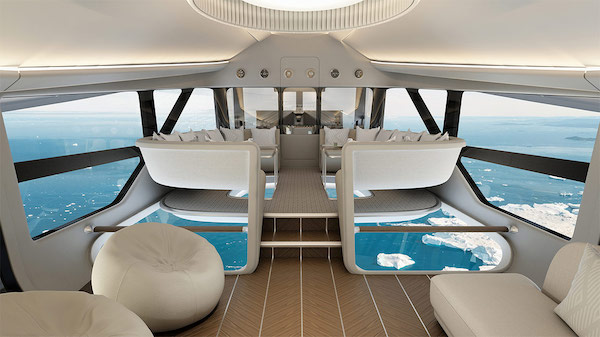 Image via HAV
[via Live Science, images via HAV]