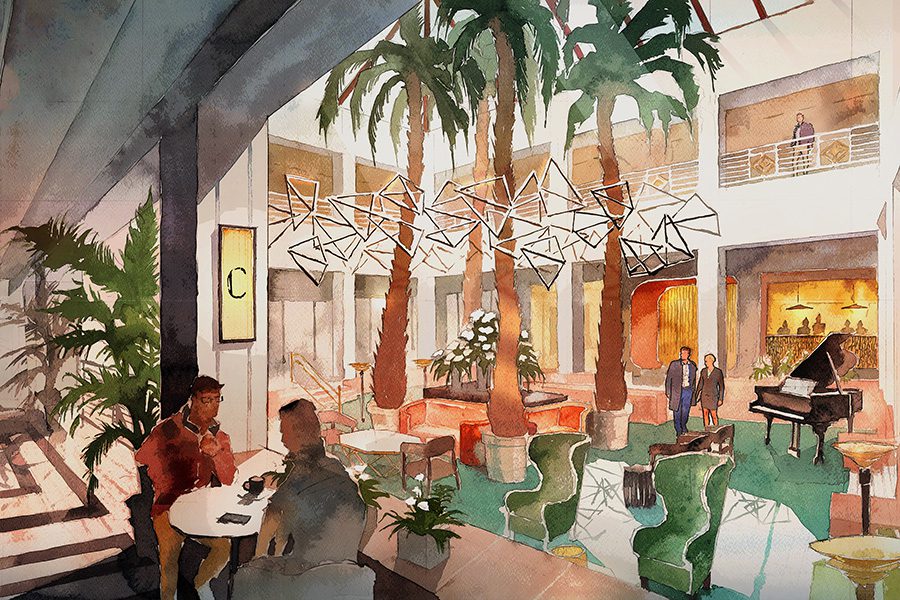 Heritage Hotels & Resorts, the largest independent hotel group in New Mexico, has transformed the former Hyatt Regency Albuquerque into the Clyde Hotel. Named after New Mexico's 11th governor, Clyde Tingley, the new hotel will soon open with a refreshed look. The renovations, led by locally based interior designer Carla Davis, pull inspiration from design aesthetics of the early 20th century when Tingley served.
"An important goal in the new design is to provide distance from ubiquitous corporate hotel themes, and instead, provide a unique experience that pays homage to an era that was filled with exuberance and potential," says Davis, who serves as owner and principal of design studio Accentricks, Inc. "The vision for the Clyde Hotel's design draws from Art Deco themes paired with modern interior elements, all to be discovered within the immutable architectural vernacular found throughout Albuquerque Plaza. The existing building has strong lines and massing that are a perfect backdrop for these allegorical references."
The 20-story hotel will greet guests with a reinvigorated ground floor and lobby outfitted with velvet, leather, polished surfaces, antique brass, copper, and milk glass. Geometric patterns will also span interior walls and floors, while custom carpeting in the lobby atrium will echo the appearance of a gingko leaf in homage to Tingley's tree-planting initiatives. A bold color palette of deep blue-greens, chartreuse, ivory, copper, and ebony will permeate the property to reflect a marriage of Western grit and Eastern glam.
More from HD:
What I've Learned Podcast: David Galullo, Rapt Studio
4 Don't-Miss Speakers Heading to HD Expo + Conference 2022
Mitchell Hochberg Shares What's Next for Lightstone