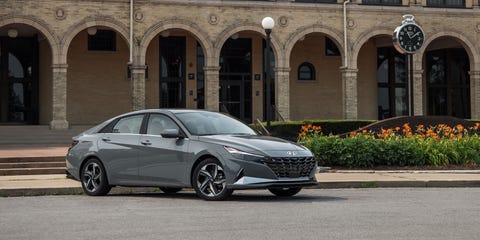 Michael SimariCar and Driver
Hyundai redesigned the Elantra sedan for 2021 and now offers a hybrid version for the first time.
1 of 41
The hybrid looks nearly identical to the nonhybrid, with a badge at the rear being the only noticeable difference.
2 of 41
Our test car was a Limited model with an as-tested price of $29,260.
3 of 41
The hybrid also comes in a less well-equipped base trim level called Blue.
4 of 41
The color you see here is called Electric Shadow, a no-cost option.
5 of 41
There aren't any major options available on the Elantra hybrid Limited, which comes standard with lots of features.
6 of 41
Compared with the Blue, the Limited adds a larger screen, cooled front seats, and leather upholstery.
7 of 41
The Elantra hybrid Blue is rated at 54 mpg by the EPA, but the heavier Limited is rated at 50 mpg combined.
8 of 41
In our testing, the Elantra achieved an average of 40 mpg and hit 48 mpg in our 75-mph real-world fuel-economy test.
9 of 41
The Elantra hybrid has a combined output of 139 horsepower.
10 of 41
2021 Hyundai Elantra Hybrid Limited
11 of 41
2021 Hyundai Elantra Hybrid Limited
12 of 41
2021 Hyundai Elantra Hybrid Limited
13 of 41
2021 Hyundai Elantra Hybrid Limited
14 of 41
2021 Hyundai Elantra Hybrid Limited
15 of 41
2021 Hyundai Elantra Hybrid Limited
16 of 41
2021 Hyundai Elantra Hybrid Limited
17 of 41
2021 Hyundai Elantra Hybrid Limited
18 of 41
2021 Hyundai Elantra Hybrid Limited
19 of 41
2021 Hyundai Elantra Hybrid Limited
20 of 41
2021 Hyundai Elantra Hybrid Limited
21 of 41
2021 Hyundai Elantra Hybrid Limited
22 of 41
2021 Hyundai Elantra Hybrid Limited
23 of 41
2021 Hyundai Elantra Hybrid Limited
24 of 41
2021 Hyundai Elantra Hybrid Limited
25 of 41
2021 Hyundai Elantra Hybrid Limited
26 of 41
2021 Hyundai Elantra Hybrid Limited
27 of 41
2021 Hyundai Elantra Hybrid Limited
28 of 41
2021 Hyundai Elantra Hybrid Limited
29 of 41
2021 Hyundai Elantra Hybrid Limited
30 of 41
2021 Hyundai Elantra Hybrid Limited
Advertisement – Continue Reading Below
This content is created and maintained by a third party, and imported onto this page to help users provide their email addresses. You may be able to find more information about this and similar content at piano.io