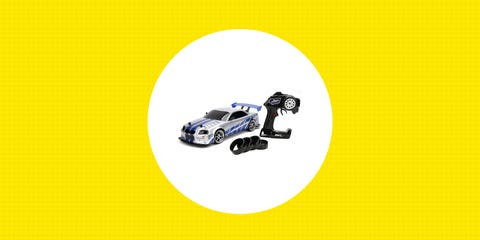 Jada Toys
RC cars are getting fast. Like, really fast. While there are a ton of awesome off-road RC vehicles, we can't forget about the cars that prefer to put the power down on the road. These speed hunters don't do well on the bumps but excel on flat pavement.
Some of these RC cars are tuned to drift, some to wow you with staggering mph numbers, and some just to replicate their life-size counterparts with stunning attention to detail. With a little research, you can upgrade these cars with batteries, wheels, servos, and more to really customize your mini ride.
These are our favorite street-style RC cars for drifting, flat-out speed, and looks—perfect if you've got a lonely stretch of pavement that deserves some action.
---
Advertisement – Continue Reading Below
Licensed Lamborghini Aventador SVJ RC Car
This Lambo RC car is small—1/24 scale—but packs a punch. It runs smoothly using AA batteries and is perfect for taking a spin around the kitchen floor. The exterior and interior details are superb, and it offers a great bang for your buck.
Licensed Ferrari F40 RC Car
This 1/14-scale Ferrari F40 excels in its attention to detail. Both the exterior and interior look fantastic, with actual shock absorbers and functional pop-up headlights. It only reaches between 5 and 10 mph, but the turning radius is excellent and perfect for tooling around the house.
Ford Mustang Shelby GT500 RC Car
This Ford Shelby GT500 from Midea Tech is a great budget RC car that looks surprisingly lifelike. It's in 1:14 scale, features a detailed interior and exterior, and can reach speeds of up to 15 mph.
Fast & Furious Nissan Skyline GT-R Drift RC Car
Channel your inner Brian O'Conner with this RC drift car that looks just like that stunning R34 in the Fast & Furious franchise. It's easily charged with USB technology, and the remote is nicely ergonomic. The car comes with four extra plastic tires that mount easily when you burn up the originals with all those sick power slides.
GT-R RC Drift Car
This R35 RC drift car comes with both rubber and plastic drift tires, depending on how you want to drive it. Drifting with the AWD system is a breeze, and you can easily pull off some sweet tandems with a friend. It comes with rechargeable NiCad batteries that last up to 15 minutes, but you can also use regular AA batteries if you choose.
All-Terrain RC Buggy
This RC buggy loves all kinds of terrain—not just the street. With its rugged components and 20000 RPM 550 motor, this bad boy can easily reach speeds of over 35 mph in a jiffy. Perfect on a course with a mix of pavement and bumpy stuff.
EPX Drift RC Car
This sharp-looking drift RC car from Redcat Racing features slippery drift tires and AWD for easy, sustained slides. Inside, the electronics are waterproof, in case you want to try some drifts out in a drizzle.
Temi RC Race Car
This 1/10-scale RC race car by Temi can hit speeds of over 35 mph and boasts intuitive AWD. The shell is made of PVC for better collision resistance, but we don't recommend any backyard demolition derbies.
This content is created and maintained by a third party, and imported onto this page to help users provide their email addresses. You may be able to find more information about this and similar content at piano.io
Advertisement – Continue Reading Below