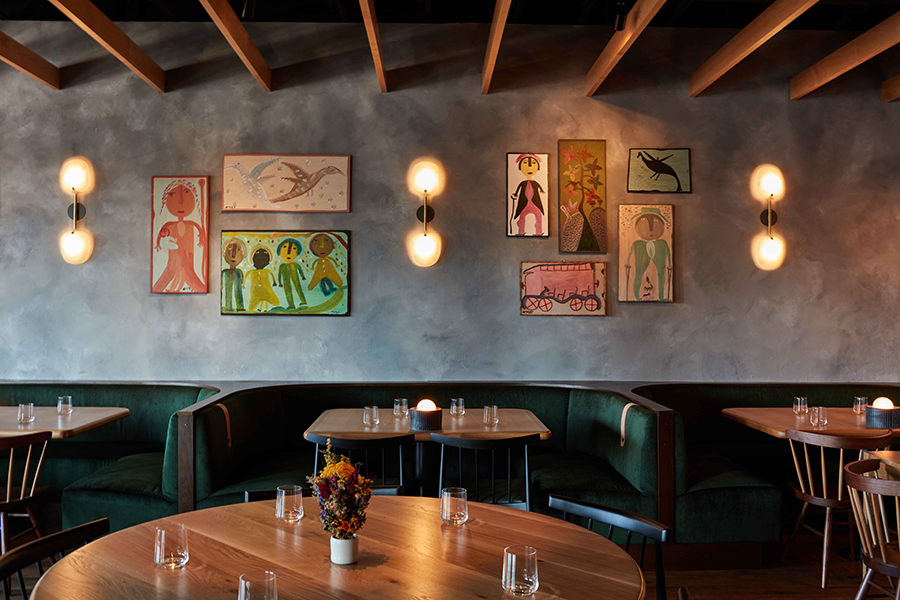 Chef Sean Brock has unveiled his first solo venture and flagship restaurant, Audrey, in the heart of Nashville's Cleveland Park neighborhood. Housed within a transformed two-story volume, the 10,000-square-foot eatery boasts a design from locally based architecture firm Powell. Named after Brock's grandmother, the concept was crafted with a rustic Appalachian-inspired ethos and is accented by the chef's own Southern folk art collection to instill a sense of intimacy and authenticity.
"We wanted to weave in [Brock's] love of Appalachia and the scenes of his upbringing into the design language and fabric of what Audrey is about," says Powell partner and chief creative officer Katie Vance. "We wanted to capture the essence of this region along with paying homage to Sean's love of Japanese design and sensibilities."
Local craftsmanship is showcased across Audrey through artisanal elements from ceramics to wallpaper and furniture, while details like cast pieces of burned wood tiling honor shou sugi ban techniques and infuse a Japanese-inspired ethos. A range of native Appalachian wood also warmly line the interior.
"We wanted real materials made with thoughtful care and an artful precision," Vance adds. "Handmade pieces—most from local makers—are used throughout the space to infuse a hand hewn character and personality into the restaurant." The first floor accommodates the main dining room lined with booth and banquette seating in addition to an open kitchen. A custom materiality defines the space to evoke Brock's Appalachian roots as well.
Upstairs, a suspended wood and light sculpture punctuates the arrival experience of Bar at Audrey, which is illuminated by custom light fixtures also equipped to function as speakers and herb dryers. A second open kitchen is also housed on the upper level to host more intimate chef's tastings.
More from HD:
Hotel Kansas City Balances Grit and Glamour
Benjamin Moore Reveals Color of the Year 2022
What I've Learned Podcast: George Gottl, UXUS