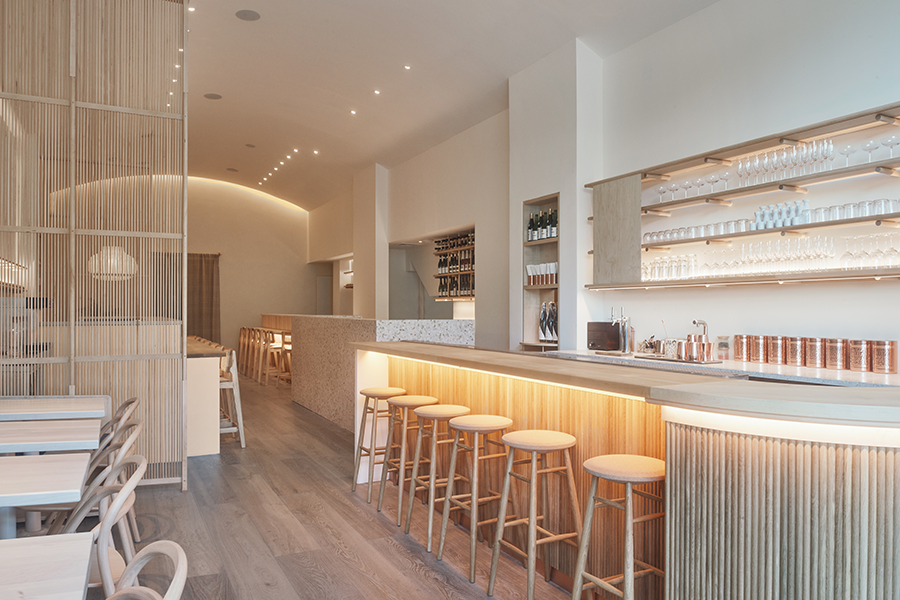 Japanese concept Nami Nori has unveiled its second location in Brooklyn's bustling Williamsburg neighborhood. Anchored by dual temaki counters, the new restaurant features a clean and airy design conceived by locally based architecture firm MN, which also crafted Nami Nori's original outpost in Manhattan's West Village. The space merges the aesthetics of a modern beach house with that of traditional Japanese abodes.
"We wanted guests to arrive at a place that was familiar in scale while providing a serene backdrop to the dining experience," says MN partner and managing director Preeti Sriratana. "The design was to strike a balance between refinement, economy, and accessibility whilst expressing a modern, relaxed atmosphere to pair with the health-conscious menu."
Floor-to-ceiling windows at the front of the house pour light into the space and establish a connection between the interior and nearby McCarren Park. Subtle lighting further illuminates the 40-seat restaurant to amplify the tonal palette of wood, terrazzo, and warm white surfaces. Woodwork and floral displays instill a domestic intimacy beneath barrel-vaulted ceilings as well. A sake bar and a sheltered alfresco section populated with bespoke plywood furniture are also featured.
More from HD:
Four Seasons Hotel Madrid Links Past and Present
Hotel Kansas City Balances Grit and Glamour
What I've Learned Podcast: George Gottl, UXUS