November 5, 2021 by Silverstone Auctions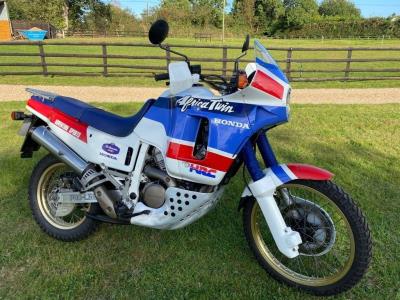 A selection of rare and classic motorcycles will be under hammer in the first motorcycle only that leading UK auction house Silverstone Auctions will hold at the NEC Classic Car Show on Friday 12th November. Over 90 motorcycles will be up for offer at the sale, stretching from pre 1920's all the way through to the early noughties. Adventure bikes, sidecars, café racers and scooters all feature in the list of auction lots, and most are supported by significant history. Rarities such as a 1946 Indian Chief Model 346, the rarest of the post-war Chief models, and a 1939 Brough Superior SS80, complete with Alpine 'petrol in tube' sidecar, lead the vintage model selection. Modern Classics make their mark in the shape of a 1988 Honda XRV650 RD-03 Africa Twin – a bike that was only produced for 1 year is the only Africa Twin model to be built by the famed HRC department. Additional classic offerings include a 1970 Honda CB750 KO, 1 of only 36 of the type registered new in the UK with only 1 previous owner. Similarly, a 1972 Yamaha YDS7, the precursor to the Yamaha RD, has only one owner and remains in original condition. The Classic Car Show-based sale offers buyers the opportunity to not only view the bikes and inspect any accompanying history, prior to bidding, but also gives the thrill of a live auction. Silverstone Auctions Motorcycle Specialist Mark Bryan comments:

'The NEC Classic sale is a real event, and we have a varied catalogue featuring some fantastic motorcycles for sale. From pre-war through to modern and retro-classics we have an exciting mix. Many of the bikes on sale have low ownership and great provenance, so it promises to be an exciting sale room on the day.' Interested parties can view the motorcycle sale catalogue online now at silverstoneauctions.com, where they can also register to bid ahead of the event.

For more information please visit Silverstoneauctions.com
The NEC Classic Motor Show Motorcycle Sale is on Friday 12th November.