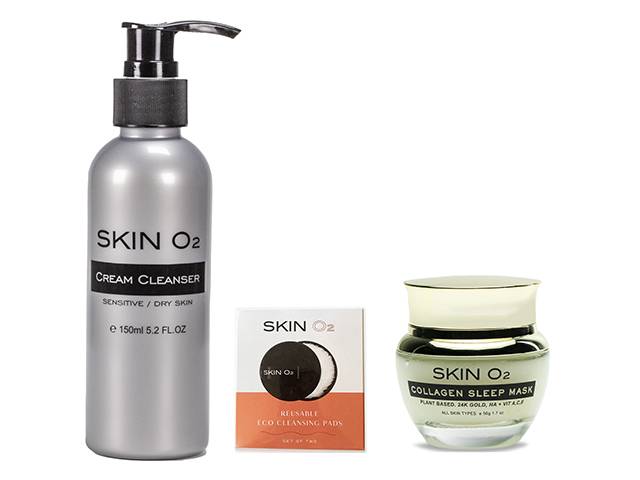 Thanks to Skin02 here is your chance to Win one of 2 x Skincare Packs valued at $79.90 each including:
– Clean Cleanser
– Eco Reusable Facial Cleansing Pad
– Collagen Sleep Mask
SkinO2 is Excited to Unveil New Website
Australian Creators of Clean Beauty, Skin O2 cosmeceuticals, makeup and skincare products are thrilled to announce the launch of their newly designed website and eCommerce store, making a statement on the shelf and off. The completely revamped web site features a simplified responsive design including Skin Quiz providing best product advice for all skin types, improved functionality, revitalised content and features ethical new recycled packaging, in its sustainability as an eco-conscious global beauty brand to support over 1 million customers and expert salons.
Skin O2 cosmeceuticals, makeup and skincare products are all vegan, ethical, cruelty free, dermatologically tested, fragrance free and non-acnegenic.
Skin O2 have taken the best of nature and science-based technology to produce products with active potent ingredients that are clinically proven and actually work. Skin O2 formulas are at the forefront of best clinical practices, with top performing green products which contain the highest amount of over-the-counter active ingredients to ensure optimum skin health, including no pore-clogging & irritating ingredients, no toxic nanoparticles, no harsh chemicals & no irritating additives, making Skin O2 safe and suitable for every skin type including sensitive skin.
Skin O2 products tackle all skin concerns, such as sensitive skin, acne, ageing, fine lines, enlarged pores, dryness, redness, uneven skin tone, under eye dark circles, lack of elasticity, and dehydration, perfect for all consumers and expert salons.
Created by Doctors, Skin O2 delivers exceptional results and is clinically proven to fight the signs of anti-ageing and treat all skin types.

Visit https://www.skino2.com.au/ to begin your Skin O2 journey with us, transform your skin and make the right choices for you, and the environment.
Clean Cleanser RRP: $4.95
Eco Reusable Facial Cleansing Pad RRP: $19.95
Collagen Sleep Mask RRP: $55.00
The Best of Nature and Science
Developed in 2005 by Australian expert cosmetic physician Dr. Aaron Atia, Skin O2 makeup, skincare, devices and products have been
solely developed to care for patient's skin concerns. All our Doctor's formulas are at the forefront of best clinical practices and offer
proven results to help reverse & fight the signs of aging, reduce acne & achieve incredible skin.
Skin O2 Cosmeceuticals formulas are unique, here's why:
● Created by Medical Doctors and Backed by Science to improve skin health
● Hydro encapsulated active ingredients for less downtime & no irritation
● High-end Liposomal delivery systems
● Chirally correct & potent anti-aging start performers
● Advanced multi-molecular formulation
● No synthetic fragrances or irritating toxic ingredients
● Guaranteed and Clinically Proven