<!–
window.IS_IE8 = true;

Nature and Travel | Iceland Monitor | Sun 6 Jun 2021 | 8.04 GMT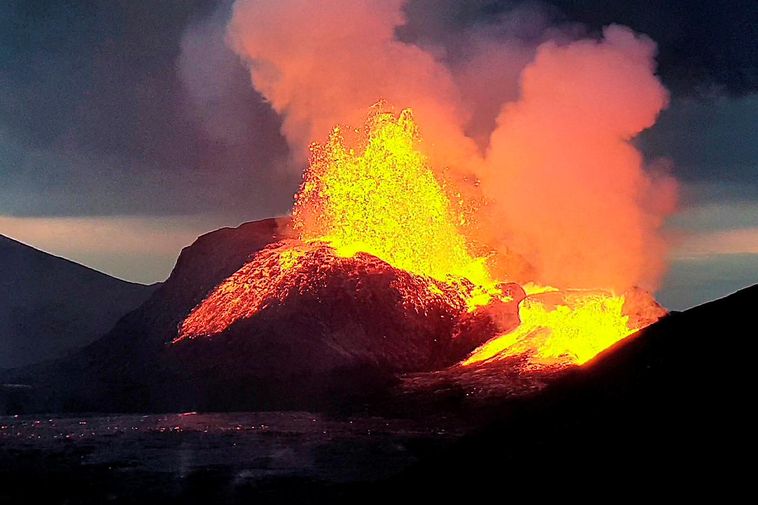 Photo/Halldór Halldórsson
Two of the companies offering helicopter tours to the eruption site by Fagradalsfjall mountain, Southwest Iceland, are booked up weeks in advance, Morgunblaðið reports. Both of them offer flights that depart from Reykjavík Airport. A few additional companies offer similar flights.
Increasingly, foreign tourists have been booking helicopter tours to the eruption site, in addition to the locals. A typical tour includes a flight over the eruption site, after which the helicopter lands at a good observation point where passengers can get off the helicopter to take pictures and enjoy the view for 15-20 minutes, before flying back to Reykjavík. A landing place is chosen depending on the weather and the wind direction, making sure volcanic gas pollution is avoided.
"There is strong interest in the eruption," states Birgir Ómar Haraldsson, CEO of Norðurflug Helicopter Tours (helicopter.is). Flights are booked up three to four weeks in advance.
The company operates three helicopters, each of which can take seven trips a day, weather permitting. Hence up to 120 passengers can be transported a day, when conditions are optimal. Birgir notes that the pilots try to fly as far away from hikers as possible.
"Our work these days almost exclusively involves flying to the eruption site," states Friðgeir Guðjónsson, director of marketing and sales for Þyrluþjónstan ehf. – Helo (helo.is). "Demand is increasing, especially since many foreign tourists are booking flights. Their numbers are rising fast these days."
Until recently, most of the passengers have been Icelandic. On Thursday, the company was booking reservations for tours four to five weeks from now. Some people have even reserved flights for next year.
When the weather cooperates, each of the company's helicopters can transport up to 50 or 60 people a day.