Image via Taco Bell
Getting a good night's rest in between long days at work is of utmost importance, and just in case you forgot, Taco Bell's newest initiative is here to remind you. Yes, Taco Bell, a brand often associated with late-night munchies.
To tempt fans into cultivating a "sleep early, wake early" habit, the Toasted Breakfast Burrito is, once again, being dangled in front of their very eyes after a COVID-induced disappearance.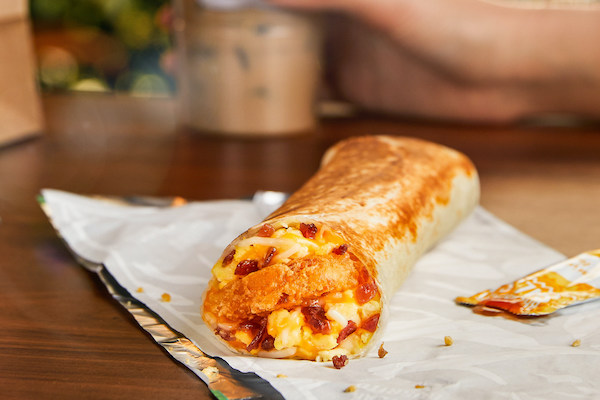 Image via Taco Bell
And in order to be well-rested in time to get this cheesy goodness, Taco Bell is introducing Sleep Tight, Get That Bite: A Taco Bell Bedtime Story for Adults. Because who said only kids can have bedtime stories?
"One burrito, two burrito, three burrito, four, this tale will have fans dreaming of that breakfast they're gonna score." This colorful book features gorgeous illustrations reminiscent of lighthearted children's books and a burrito-themed narrative, a much-needed refresh from the usual doom-scrolling just before bed.
The bedtime tale is now available to read for free in the form of a Google Slides document—which is a suitably grownup way of delivering a bedtime story, isn't it?
via Taco Bell
To induce maximum comfort, Taco Bell is also introducing a line of sleepwear in its online retail store, the Taco Shop. This Breakfast Sleepwear Collection will include cozy merchandise like "an ultra-plush hot sauce packet blanket perfect for snuggling" alongside pajama sets and eyemasks.
That's not all, of course. What happens if you sleep so well that you end up sleeping through the alarm? Taco Bell, of course, has thought this through.
On Thursday, October 21, the brand is offering a wake-up call service so that fans can be up on time to grab a free Toasted Breakfast Burrito from stores nationwide. All that needs to be done is text "Wake Up" to 1-866-WAKEUP3, which will allow users to receive a pre-recorded call to remind them that a delicious free breakfast awaits.
The reintroduced line of Toasted Breakfast Burritos will include the Cheesy Toasted Breakfast Burrito, Hash Brown Toasted Breakfast Burrito, and Grande Toasted Breakfast Burrito, starting from US$1.29.
[via Taco Bell]