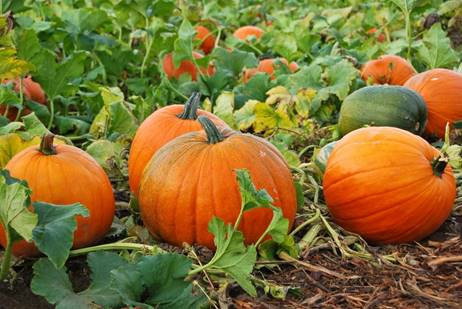 Dorchester-based watercress specialist The Watercress Company has diversified into pumpkins in time for Halloween, growing a 'pick your own' patch aimed at local families.
Knap Farm in Owermoigne, Dorset normally produces 2 million kg of watercress a year, but a trial run at producing pumpkins on the land adjacent to the watercress beds has proved a success.
The business speculated that the natural spring water that feeds the watercress with healthy minerals and nutrients has encouraged strong pumpkin production.
MD Tom Amery said: "Watercress is a pretty unique crop as it is grown in special beds in flowing spring water. This means that we tend to have some land near the beds that is uncultivated.
"With Halloween being such a big event these days, and we suspect even bigger in 2021 as youngsters make up for last year, we think pumpkins will be in huge demand."
The Pumpkin Patch at Knap Farm is open from 8am to 4pm on Tuesday 26-Thursday 28 October and on Saturday 30 October.
Visitors pay £5 online to book a fast-track ticket, which includes any size of pumpkin, entry for a whole household and free parking. Buying a ticket in advance allows them to skip the queue and find and pick the perfect pumpkin, under the guidance of staff.
The option to turn up and pay on the day is also available, but customers will be charged according to the pumpkin's size and TWC said places are going fast, so booking in advance is recommended.
There are three pumpkin varieties on offer: Gold Medal, Crown Prince and Polar Bear – all in various shapes and sizes. Each is suitable for carving, decorating or eating.
Visitors also have the chance to walk and take pictures with alpacas in fancy dress. Halloween costumes are encouraged among visitors as well, to make the alpacas "feel less self-conscious".