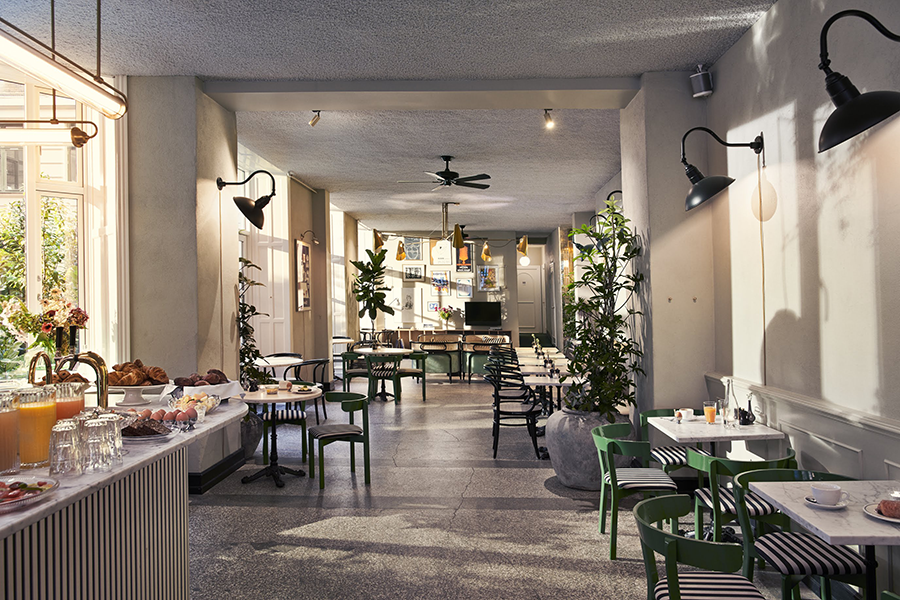 A late 19th-century structure in Copenhagen has been reborn as the home of the new Coco Hotel. Owned and operated by Cofoco, the 88-room urban retreat accentuates the history of the site, while also featuring retro décor and reused and recycled elements. Danish design agency TONEN spearheaded the design of the project, which evokes a classic cosmopolitan flair uniquely distinguished by its vintage palette.
Beyond the reception area, a café on the ground floor invites visitors into a space reminiscent of a Parisian apartment. Leather, wood, brass, and marble elements characterize the social hub, which is accented by vibrant hues and patterns. "We found old chairs in the hotel basement that had been in the building for decades," adds TONEN designer Mette Bonavent. "They were still in good shape, and after a new green paint and new striped upholstery, they became a playful iconic Coco element."
Spread across five floors, the Coco Hotel's accommodations span a range of configurations and aesthetics, with outdoor elements or vintage prints found throughout the hotel punctuating chambers as well. Bright blue tones adorn first-floor guestrooms, while deep green and creamy white define rooms on the second and third floor, respectively. A smoky gray palette also permeates rooms on the fourth and fifth floors.
More from HD:
4 Wineries Usher in a New Era of Design
What I've Learned Podcast: Neri&Hu
Monastero Arx Vivendi Maintains Its Old-World Charm